Oktawian Chojnacki
Important books, posts and links.
I read many books.
I think a lot about most of them. Sometimes, I have something to say about the issues raised. Other times, I just want to praise the author or spread an interesting idea.
The truth is, most of the things we discover and stumble upon in our lives are not new. They are not new, because they are merely incremental to what we already know. Most ideas and reflections are just that - a form of news, only extending our knowledge a bit. See outstanding Alan Kay's presentation (YouTube): Normal Considered Harmful If we try to chew on something entirely new, it hurts. That is my goal: I want to present only painful ideas to you here.
I want to present ideas that are absolutely unlike to what you already know.
Alan Kay
Influence and reading list.
Let me start with saying that Alan Kay's books, articles and lectures had a great impact on me and everything below this section is in one way or another influenced and inspired by Mr Kay. Alan Curtis Kay, PhD. Born in Springfield, MA on May 17, 1940.
Turing Award winner in 2003.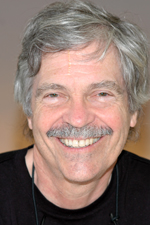 I recommend a reading list that Alan Kay published on his website squeakland.org. Almosyt all of the books that I am reviewing below come from this list.